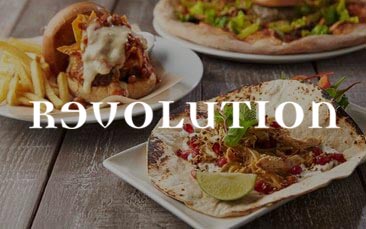 If you're leading all the hens on a big night out, the last thing you want is to struggle to find somewhere that will seat a group of your size. It's one of the most overlooked details of any hen weekend. With GoHen we'll do all the worrying for you and set you up with some fabulous hen party food in a great bar, right in the city centre.
Your table will be waiting for you, with everything prepaid so none of the usual grief ("But Holly only had two breadsticks and 4 pints of Bacardi and coke..."). All you'll need is some extra pennies for your drinks. Plus the expansive menu has a little something for everyone to be able to choose from. Your group must decide on whether to all have starters or desserts.
Menu
Starters
Grilled Chicken Skewers
Calamari
Nachos
Houmous
Main Courses
Steak & Chips - 8oz rump steak, with garlic butter & fries
Classic Burger - Burger, fries & aioli
Blackened Chicken Burger - Spicy blackened chicken with tomatoes, fries and aioli
Smokin Bacon Burger - Smoked cheddar, streaky bacon, chorizo ketchup, smokinnaise, crispy onions, fries
Bean Dreamin' Burger - Sweet potato & bean burger, houmous, vodka salsa, fries, aioli & beetroot
Slow Cooked Ribs - Chipotle BBQ sauce, fries & caulislaw
Panang Chicken Curry - Coconut milk, Thai basil, jasmine rice
Margherita Pizza - Tomato sauce, basil mozzarella
Hey Pesto! Pizza - Pesto, mozzarella, cherry tomatoes, basil, feta & roasted peppers,
Peperoni Pizza - Mozzarella, pepperoni, tomato sauce
Pulled Chicken Superfood Salad - Lentils, quinoa, wheatberries, radish, carrot, soya beans, mango & chill dressing
Desserts
Baked New York Cheesecake - With strawberries, creme fraiche
Chocolate Brownie - With vanilla ice cream
Please note: Menus are seasonal and may be subject to change.
Your group must choose to all have starters or all have desserts.
But have the hens really earned it? Like, really, really earned their food? If not, then perhaps you're not doing it right. If you want to give the bride-to-be a weekend to remember then GoHen are on hand to put all the madness together, cocktail mixing, inflatable games, dance classes, quidditch, your wish is our command. And what's more, you can leave us to do the hard work for you, finding the best deals and putting together times, addresses and details while you sit back relax and focus on the important things, like the cocktail menu. Put us to the test today for a free quote and the perfect weekend.