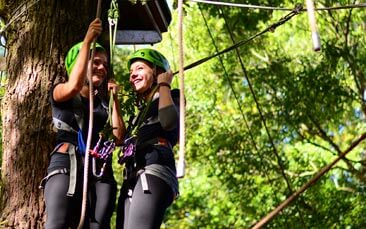 Our North East Beast hen party is proving a smash hit with daring hens looking to get away from more traditional hen weekends. This really is one of the most daring challenges a hen party can face!
If the bride-to-be wants something totally unique and different for her Newcastle hen do then now's your chance to really put her and the rest of the hens to the test with some brilliant challenges. This is certainly not your run of the mill hen stuff, yes you will get a relaxing afternoon tea, with a few tasty treats and teeny-tiny cakes. But first, you're going have to work for it!
High Ropes Course - Set in the treetops of beautiful ancient woodland, this incredible two-hour adventure, will see you tackle zip wires, rope bridges and swinging towers. Not only does it create great teamwork but for any acrophobic hens, the sense of achievement is amazing! To finish you'll have to brave the unbelievable Powerfan, leaping from a great height... with no safety net!
Archery - There'll be no need for hunger games on your hen weekend, but you will need, skill, accuracy and composure to win the archery challenge. Competitive hens will love it as you'll be aiming for points to see who can post the best score. It's also handy training for the coming zombie apocalypse (oh we watch TV, and we KNOW it's coming!).
Afternoon Tea - Having survived the adventure you can celebrate in a more ladylike way with a delicious afternoon tea, dainty cakes, delicate sandwiches, pastries, fancies, it's the perfect treat to celebrate your achievements.
A real mix of hen fun, packed full of great Instagram moments and ending with cake. Because who doesn't like cake? Contact our team today and find out how to match the North East Beast with accommodation and nightlife for the perfect weekend package.