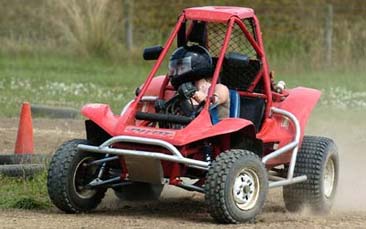 Forget rush hour traffic jams, say "adios" to boring bus journeys, get behind the wheel of these suped-up racing machines on our hen party Honda Pilot racing experience. Honda pilots are some of the quickest, most exciting racing buggies currently available. With top speeds close to 60mph, these machines can get both the pulse and heart racing while testing your driving skills to their limits! Made by Honda, these cars are no-nonsense, four-wheel-drive motor monsters perfect for racing, roll caging, and getting the adrenaline pumping!
Honda pilots were originally designed to race on sand, and largely used in America - you might know them already as 'dune buggies'. They're one of the most fantastic vehicles on the market, as well as a fantastic hen party activity where the hens with a deeply competitive nature (you know who you are!) can really get their teeth into some high-speed fun with plenty of experienced instruction and safety precautions to make sure everyone finishes the day in one happy, smiley piece.
Not only are they some of the best cars, but we've found some of the best venues in the UK to go with them, and make sure your hen party is a success! Reaching speeds of 60mph you'll be hitting the speeds you can on any dual carriageway - and with a lot less between you and the ground, you'll definitely feel it! Learn to control these strong, speedy karts, and have a great time with your favourite girls!
Once everyone has got a feel for these speedy machines and had a practice run, it's then time to get competitive with a special time trial to find out once and for all who is the fastest hen on four wheels!