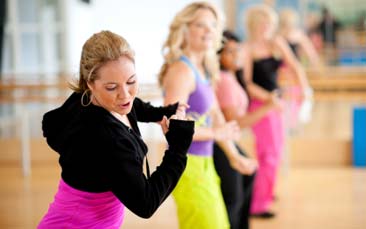 The smash-hit fitness and dance craze, Zumba, has arrived at GoHen! Combining Latin and International music, you will enjoy an exhilarating, easy to follow, calorie-burning, fun workout. Perfect for getting the girls feeling fit and ready ahead of the big day, this amazing dance class will get the spirits up, the blood pumping and the hen's faces grinning!

Keep any nagging nearly wed anxieties far from the bride-to-be's thoughts by enrolling her on this highly active, incredibly fun fitness session of a lifetime. Ensure petit fours, table decor and off colour speeches from the relatives stay far away from the nearly wed's mind while treating her to a feel-good session of Zumba dancing.

It doesn't matter if any of the group are seriously lacking any form of rhythm or have never tried it before because our easy to pick up sessions are suitable for everyone, even the mother-in-law to be.

Our wonderful Zumba dance teachers are on hand to show the hens how to do everything and will be leaving you with a new skill to incorporate into your fitness routines. Once you and the girls try it, you'll be so hooked you may even see yourself continuing classes after the hen party!