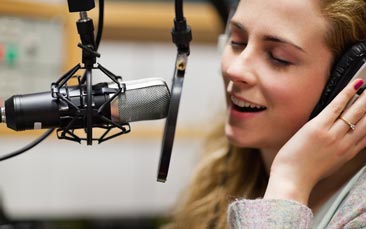 Do you and the hens fancy yourselves as the new Girls Aloud, or maybe think you could give Beyonce a run for her money? Then our recording studio experience is the perfect hen party activity for you! A truly enjoyable, relaxed experience, ideal for the bride-to-be who loves standing in the spotlight or wants to feel like a celebrity, so even if you do sound like a bag of cats, it's all in the name of fun.
You'll need to warm up those vocal cords before taking to the recording booth with your best friends, or if you're really brave, on your own. Then you'll get the thumbs up from our experienced professionals and it'll be time to belt out melodies like your name's Aretha Franklin in this high-tech recording facility.
This experience really is totally unique and will make your hen weekend both special and memorable. With a professional recording technician on hand to help "tweak" your vocals, you'll soon have your own demo to either play at the wedding reception or pass on to a certain Mr Cowell. Pair it up with one of our fabulous dance classes to choreograph some moves to your song, to make a real performance of it on the big day!
Our hen party recording studio gives you and the girls a great excuse to just let your hair down and go wild in an activity that you can bet most of the guests won't have tried before.
Our GoHen top tip: take a trip to our fantastic London venue, where you can sing in the same studio as the amazing Kylie Minogue!