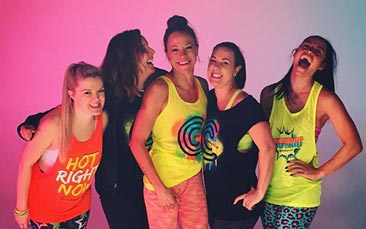 A fusion of dancing, toning and combat moves with high/low impact options for beginners and fitness fanatics alike that can burn around 600 calories. Not only is it a fab detox, but it's also brilliant fun and packed full of classic dance anthems.
Held in a fantastic location you'll all be going crazy on the dancefloor while a live DJ plays the biggest dance tunes of the 90s through to the present day. You'll be singing as you work out, dancing with the rest of the hens in perfect formation. The dance instructor will show everyone the moves and keep things suitable for the group.
To really get in the spirit you can bring fancy dress such as neon dance/sportswear that will really stand out under the UV lighting. For hens looking to avoid drinking and staying healthy, this really is ideal. But if you're looking to get less healthy later this fab workout is a good way to enjoy some top tunes and give you a good excuse to up the calorie/cocktail intake later.
The class is suitable for pregnant ladies, but please advise the instructor before the class begins. All clubbers will fill out a short medical questionnaire before taking part, so we advise you to arrive 15 minutes before the class starts.