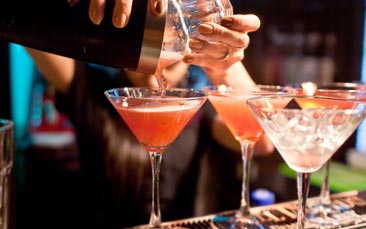 No hen party is truly complete with a few cocktails and our Albufeira hen party cocktail mixing session is the perfect way to share a few laughs and a few drinks while learning some great new skills.
Rather than simply sipping cocktails (a worthy and noble pursuit in its own right), you and the hens will actually be introduced to the art of cocktail mixing. A master mixologist will show you how to make three individual drinks. After you've been shown each cocktail you'll get your shake on and have a go at making each drink yourselves, sipping as you work (natch) purely for quality control purposes of course. As well as the drinks, you'll learn all kinds of handy cocktail making basic tips and rules so you can go home and try creating your own cocktails for your next party or BBQ.
You can also be marked during your hen party cocktail mixing in Albufeira to add a competitive element and even more laughs. You'll get to drink three creations each as well as some free shots. Hens must be over 18 and we also recommend pacing yourselves throughout the evening. You don't have to drink all three drinks. Albufeira is hot but the most important thing is having fun and staying safe at all times.