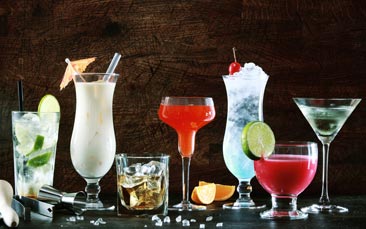 No hen party is truly complete without a few cheeky cocktails but you don't merely want to watch someone sticking umbrellas into dubious concoctions. You're ladies of fine taste and tasting is exactly what you'll get to do with our fabulous Tenerife hen party cocktail mixing class.
Under the guidance of our experienced mixologist, you'll learn exactly how to mix drinks like a pro. This is one of our most popular hen party activities as it combines some of the most important ingredients for any hen party; fun, laughs and alcohol.
Our mixologist will explain the basic tools any should cocktail bar should have (take notes so you can get tooled up for you next BBQ party back home), he'll then demonstrate the drinks. You'll need to be paying attention as you'll soon be giving it the hippy hippy shakes as your stir, muddle, mix and pour your own perfect concoctions. But best of all, after all the hard work is done you'll be able to drink the fruits of your labour. Well, it's tough graft all this mixing business so you'll deserve a refreshing fruity beverage.
The session takes place right in the centre of Las Americas at a really popular venue. That means as soon as the session is over you can carry on partying until the wee small hours. Our Tenerife hen party cocktail mixing session will also have given you all a great new skill that you can use at your next BBQ, birthday party or even to whip up a few exotic drinks at Christmas. So you can actually book this knowing it's not just a boozy bit of hen party fun, you're doing it purely for the educational aspect (?!?).
It's a fantastic and often way to have some great hen party fun that all the hens can join in with.
We'll drink to that! Cheers!!