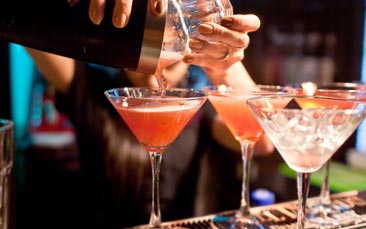 Can you really go to Ibiza and not enjoy a few cocktails? In fact, it might even be illegal not to?!? What we do know is that our Ibiza hen party cocktail class is the perfect way to sample some chilled out flavours, enjoy a few drinks and discover how to become a master mixologist.

You'll learn how to get shaken up as you create sexy summer drinks to serve at your next BBQ or party.

Once all the girls arrive at our trendy Ibiza hen party cocktail mixing venue, you'll be introduced to the professional cocktail making tutor before the mixing gets underway. You'll learn some history behind the drinks and get shown around a real bar to get a feel for the lifestyle. It's then time to make some cocktails yourself, with plenty of guidance of course.

You'll be crafting 3 tropical cocktails like the zesty Brazilian caipirinha, the Cuban mojito with its citrusy minty base or maybe an El Presidente that'll pack a tangy punch.

Of course, mixing can be thirsty work and we don't want you to get dehydrated, also it's vital you sample as you work, purely to get the delicate balance of flavours right of course! Have a giggle with the hen who overdid the rum or forgot the fruit juice before spending your free shot vouchers at the bar afterwards. Our Ibiza cocktail mixing activity is the perfect way to bring the girls together for some boozy treats and endless laughs. Cheers!