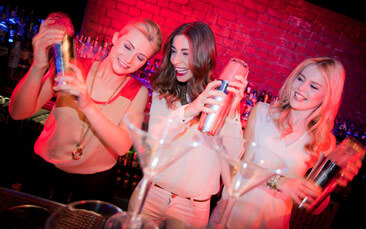 Is it even legally acceptable to have a hen party without cocktails? We're not sure, if that isn't a law then it certainly should be because ladies, the fun doesn't begin until the cocktails come out!
We're willing to admit, we've never met a cocktail we didn't like, they are the backbone of a hen party, and you and the girls will get up to all kinds of fun as you learn to make your own cocktails.
This is a session packed with great flavours, great booze and great laughs.
The session begins with the mixologist (yes that is a real job, we didn't just make it up) who will show you three classic cocktails. You'll be shown each one and then get hands-on and have a go at making it yourselves with your mixologist on hand to help you. Of course, it's vital you taste as you make (purely for quality control purposes) so you'll be sippin' and shakin' what yo mama gave ya. Once complete you can exchange your drinks with the other hens if you want so you can taste each others' creations.
These are classic cocktails and exactly the kind of thing you'll be able to make at your next party or summer BBQ. With your cocktails in hand you'll also be perfectly set up to toast the bride to be on her special weekend.
And if all that wasn't enough, there's also a hot tub on site which you can all jump into. So heat up in the hot tub, cool down with your cocktails, just like the flavours in your cocktails, it's all about balance and you and the girls could get it spot on!