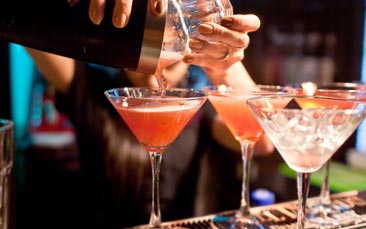 It's possibly fair to say you know your way around the odd cocktail or three. You have been known to indulge on the rare occasion. All things in moderation of course. Well now you can totally immerse yourselves in the world of cocktail goodness with our Barcelona hen party cocktail mixing class.
You'll be greeted on arrival by your friendly English speaking mixologist (we didn't make that up, that's the name of a professional cocktail barman). It's then time to get started. Mr Mixer will teach you the basic tricks of the trade and four different classic cocktails.
He'll show you how it's done, then you'll get hands on and recreate each drink, making sure you taste as you shake, for quality 'control purposes' only of course. At the end of the session the expert can judge your cocktails, then you can all drink the fruits of your labour. Bottoms up!
Our Barcelona hen party cocktail mixing is a fun and incredibly tasty event. A great way to socialise, have lots of laughs, a few drinks and maybe learn some new skills for your next BBQ or party. We'll drink to that!