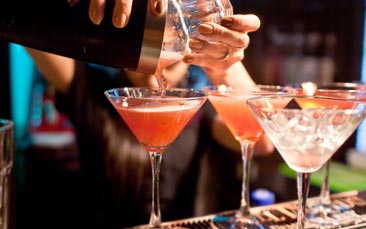 No hen weekend is complete without a few cocktails. Raising a glass (or two) is all part of the weekend but with our amazing Belfast hen party cocktail mixing activity, you'll be in charge of the measures as you shake what yo momma gave ya, along with Boston shakers packed with ice and gorgeously boozy ingredients.
You'll learn all the basic tricks of the trade to know how to recreate some classic cocktails for your next BBQ or party. Or you'll be able to start making your own new cocktail inventions from scratch.
The session will begin with a quick demonstration from the mixologist. It's then times to get your hands wet as you cut, shake, stir, mix and sip. You'll be making your own versions of each drink and of course, it's vital that you taste your drinks as you make them (for quality control purposes, not because you can't help yourselves). At the end of the Belfast hen party cocktail making session, you can sample the fruits of your labour and try a sip of each other's drinks.
There will be different skills to learn and crazy challenges along the way. You can also see which hen makes the best-looking drink, who makes the best tasting drink and who makes the booziest drink (although you might be able to guess who that will be before you even get there!). Bottoms up!