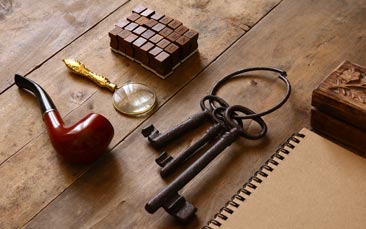 I'm hidden in the city; I think I'm rather witty; for hen parties, I've no pity. What am I? Time to get your brains into gear with this thrilling hen party escape game! If you and the girls are up for a challenge, then a race against the clock and some tricky puzzles could be the perfect way to satisfy those thrills and spills.
Could You Escape?
On arrival, you'll be given the background story to your chosen venue, it could be a forgotten movie studio, an old laboratory, a deserted bunker, the list is endless, but one thing that all our escape rooms have in common is that once you're inside, you'll soon discover that nothing's quite as it seems...
In Just Sixty Minutes?
The professor that went mad leaving no clues to his whereabouts; the evil genius who has briefly left the building giving a window of opportunity to sneak into his lab; the private detective with murder on his mind; it's time to step into the unknown. But with just sixty minutes to escape, you and the girls better have your wits about you ("Yeah, no s***, Sherlock!").
Or Will You Be Locked In?
Your mission is to enter the room and work together to find the clues, solve the puzzles, and crack the codes to get free and save humanity (no pressure then!). From the moment you enter the room, the clock starts ticking and you have just one hour to beat the challenges and your captors. Will you ever reach that priceless moment where everything falls into place? Will you ever see daylight again? Let's hope so, the bride-to-be's got a wedding to attend! I guess there's only one way to find out...
Forever!
If you enjoyed cowering on the sofa through Saw or reckon you have what it takes to beat The Cube, then this is your time to shine! It's fair to say that you and the girls will truly earn that post-game cocktail once you get out! (If you get out, that is). Good luck and may the odds be ever in your favour.