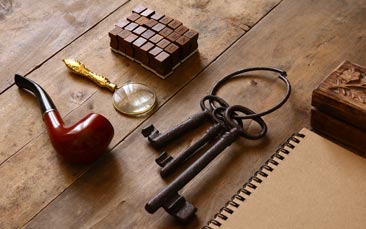 Do you like thrills and spills? Have analytical minds? Are always up for a challenge and never like to give in? If you tick all the boxes then our hen party escape rooms could be the perfect challenge to pit yourselves against.

On arrival, you'll be given the background story to your chosen venue, it could be a forgotten movie studio, an old laboratory, a deserted bunker, the one thing all the venues have in common is that nothing is quite as it seems. The professor that went mad leaving no clues to his whereabouts, the evil genius who has briefly left the building giving a one hour window of opportunity to sneak into his lab and locate the deadly virus before he unleashes it on mankind, the private detective with murder on his mind.

Your mission is to enter the room and crack the clues. You'll find puzzles, codes, physical evidence, spooky goings-on or maybe even alive (undead?) zombie chained to a wall reaching out to get you. However, once you enter the room the clock starts ticking. From then on you have just one hour to beat the room and your captors. If you locate the code, key or crucial piece of evidence then you'll be able to free yourselves. If not... well, to be honest, we don't know what happens to those that don't manage to beat the clock as no one has ever heard from them again!!!

If you're fans of C.S.I., loved 24, enjoyed cowering on the sofa through Saw or reckon you have what it takes to beat The Cube then this is your chance to shine and have some great hen party laughs along the way.