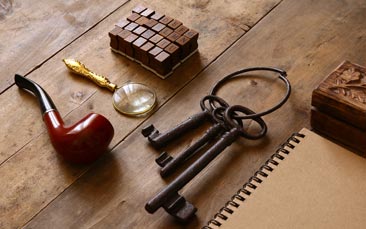 If the bride-to-be is a fan of suspense movies or you're all partial to a great mystery then you'll love our spooky Nottingham escape room.
The premise is all very simple. You'll enter a themed room, once you pass the door it will lock behind you. You now have 60 minutes to solve a series of riddles, puzzles and problems and get away before time runs out. You can expect a few twists and turns along the way. You'll need teamwork, brain power, lateral thinking and the occasional need to scream and want to hide.
But you'll also have plenty of laughs as you battle to regain your freedom.
There are two rooms to choose from;
The Company
"Welcome to Cypherdyne" All seems to be going well for you and your team as you start your first day in your new jobs. It's just a normal job induction. But then things started to get weirder... What exactly is this job? Do you really want to work with these people? And if you get hired does that mean you can't stay... or can never leave?!?
The Mummy
Step back in time to the land of the great Pharaoh Rameses. Although it would appear you have displeased the great king and he's sent you and your friends to the crypt where you have been shackled and it seems will be left to starve.
Thankfully not everyone loves the Pharaoh and some agitators are helping you escape. But can you manage to free yourselves in 60 minutes before the guards return?
The Nottingham escape room really is a first class, thrilling experience where every second really does count. The question is; Are you brave enough to enter the escape rooms? Go on, we dare you!