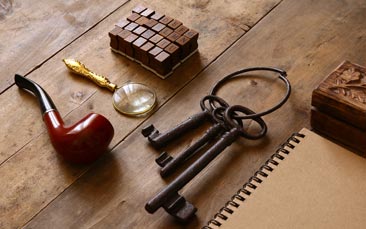 Looking for a totally new kind of hen party experience? Want a different kind of challenge? And are you willing to risk it all? Then step this way...
This fantastic, live-action adventure will put all the hens to the test. You'll enter the escape room and hear the door lock behind you. You then have just 60 minutes to solve all the puzzles, riddles and tests to make it out in one piece. And just perhaps we'll see you on the outside. Or maybe not.
Down The Rabbit Hole
The dangerously deranged Queen of Hearts has imprisoned Alice. You and your fellow hens are the only ones that can save her and its now a race against time through the increasingly wacky Wonderland. But there's no time to enjoy the Madhatter's tea party, you have 60 minutes before the rabbit hole closes over and you'll be trapped in Wonderland forever.
The Preacher
It's time to turn detectives, the terrifying serial killer 'The Preacher' needs bringing down and you've been on his trail. But suddenly the tables are turned, he's the one that has managed to capture you. You have just 60 minutes to escape and raise the alarm to finally bring him to justice before you become his next victims.
So put your minds to the test and take on this creepy hen party challenge. fun and times fraught and frantic this is a great way to add a totally new element to the big weekend. Competitive groups can even split themselves into teams in a race to see who will be the first to escape. Or maybe you won't make it out at all?