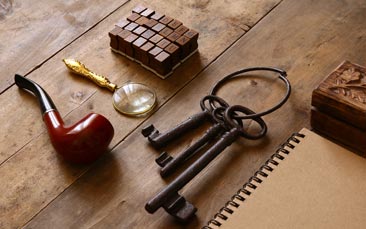 You're locked in a room.
There is only one way out.
A series of clues and puzzles stand in your way.
And the clock is ticking...

If you're fans of lateral thinking puzzles plus TV shows and movies such as The Crystal Maze, Saw, Sherlock Homes and Lost then this is definitely the challenge for you.

You and your fellow hens will find yourselves locked in a room, with a set of clues and one simple task; solve the clues and crack the puzzles in the next 60 minutes to release the locks and open the door. Should you fail... it's "Game over!"

You will be given a walkie talkie, with 3 chances to ask for help. Choose wisely though, as vague questions will receive vague (unhelpful) answers. And remember, the voice on the other end is responsible for locking you in, so might not want to give you the most helpful answers, however, they are obsessed with the game and will "obey the rules".

There are two rooms available so you can split up into two teams. Once you're free there is a team room on site for you to enjoy tea and cake and compare notes on your experience. Or remember those who didn't make it out of their room.

Six Closed Doors
Attempt to unlock six padlocked doors by solving clues and cracking puzzles left in the room. If you don't unlock the doors in time... "Goodnight hens."

Haunted House
This spooky challenge is not for the faint of heart. Inside an old Bath apartment, all is not what it seems...