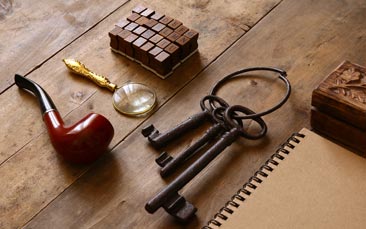 If you were fans of The Crystal Maze or are mildly addicted to online and console Escape/detective games then you will absolutely love the Edinburgh escape room.

You'll be split into two teams, we'd suggest splitting the boffins evenly between the teams although you'll definitely be surprised, these challenges require a great deal of lateral thinking and sometimes it's quite amazing just who emerges as the natural riddle solver.

Some of the puzzles will require a fine touch or physical skill, others are purely about deduction and brain power, one thing is certain, none of them are easy and with the clock ticking the stakes are high. Get it right and victory awaits your team. Get it wrong and it could be game over. Permanently.

Room 1 - Operation Baldy
You'll need; Ability to think outside the box, good detective skills and quick, agile minds.

Mad scientist Dr Kutz has lost his marbles and follicles. Yep, the guys a baldy and he's not too happy about it either. He's determined to make the world pay for his pattern baldness and has developed a formula he's going to release into Edinburgh's water supply so that soon everyone in the region will have shiny, hairless heads.

Our agents have discovered he'll be away from his lab for exactly 60 minutes. You have on hour to find where he's stashed the potion before he returns and catches you in the act. It'll be more than your hair you'll lose if he finds you!

Room 2 - The Odd-yssey
You'll need; Great team work, physical ability and mental fortitude. This one is not for the fainthearted.

Who'da thunk it? You've been selected for a mission to The International Space Station. But once you arrive things go down hill fast, an asteroid shower forces you to abandon ship, the really bad news is the escape pod (your only means to make it home in one piece) has also been hit and sustained serious damage.

Another asteroid storm has been sighted and is expected to hit the station in the next 60 minutes. You have just one hour to repair the craft and get off the station before the interstellar missiles turn the Space Station and you into Swiss cheese!