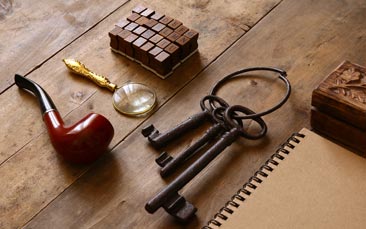 Is the bride-to-be a fan of suspense movies and TV shows? Saw, The Cube or Prison Break? If the answer to any of those is a resounding yes, then she's going to love this. Our Reykjavik escape room will see you and the girls locked in a room with an hour to solve mind-bending puzzles and brain teasers to secure your release, or else...

This is a fantastic activity, and seeing as it's only an hour-long it'll fit seamlessly into your hen party itinerary that's sure to be packed with the kind of unique activities that Reykjavik traffics in, if you can escape that is!

You and the ladies will need to work as a team if you're going to avoid whatever fate awaits you should you fail to solve the puzzles in the hour-long time limit. This is seriously hair raising, and there's big thrills to be had here - but don't let that cloud your judgement. You'll need to have your thinking caps firmly on to overcome the brain-teasing challenges you'll be confronted with here.

With a series of exhilarating themed rooms, you're guaranteed a fabulous time in our Reykjavik escape room. Do you have the wits to survive? Or will you become another victim of these twisted games' tricks?

The game rooms available are:
Taken: You and the girls have been kidnapped by a mysterious woman. As you awake in a sinister playroom, you realise you are trapped. Following clues left by another girl who managed to escape, you'll have to uncover your captor's identity and escape before she returns!
Prison Break: The hens have been framed for murder, and not just for killing it on the dance floor! You'll need to escape the prison before you're sent to the electric chair, and what luck! The guard has left his office for an hour, providing the perfect chance to escape...
The Scientist: A genius scientist has discovered a miraculous cure for cancer, and it's worth the kind of money that'll buy a fair few Louis Vuitton handbags. You've broken in to steal it, but shockingly, the cure's maker has booby-trapped his lab and you're locked in. Can you escape before the police arrive?