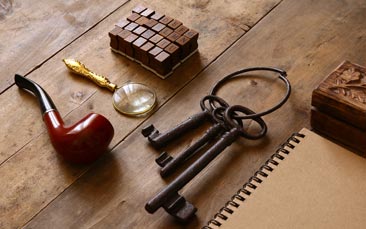 Are you a fan of murder mystery? Partial to the odd horror flick? Addicted to reruns of The Crystal Maze?
If the answer to any three of the above is "yes" then you'll love this amazing live-action mystery game.
The Prague escape room consists of three rooms, each room contains a separate scenario with its own story and riddles, puzzles lateral thinking challenges to solve and codes to break. The hens will be split into teams (depending on group size) and then select a room to play. Once inside you have just 60 minutes to crack the clues, solve the puzzles and escape, teamwork is vital if you're to keep your heads. If not it could be "Game Over". Permanently!

Room 1 - Secret Agent

Espionage is rife, who is investigating who and who should you trust? You'll find yourself in the office of an agent tasked with cracking a ring of four suspect agents. But is he one of them? He's left his office giving you a one hour window of opportunity to get in, search his files and uncover the truth before he returns. But if he finds you in there when he gets back...

Room 2 - Bomb Room

Ok, so not all of us are huge fans of banks, but blowing one up?!? You'll find yourselves in the room of a suspected bomber who likes his banks to go with a bang. He's hit two banks already and this could be his third target... Or could it be a trap? Is he waiting for his lair to be discovered just so he can have a little extra fun? And what happens if an unsuspecting hen presses the wrong button?

Room 3
It's fair to say that Brent Chadwick wasn't like most kids, well with a mother as crazy as his it's hardly surprising but for the past few years, he's been living in a secret cellar. You need to get in, discover his secrets and get out before he gets home. The only slight problem is his "home" is riddled with booby traps. And if he gets home and finds you there... Well, we wouldn't want to be in your shoes.