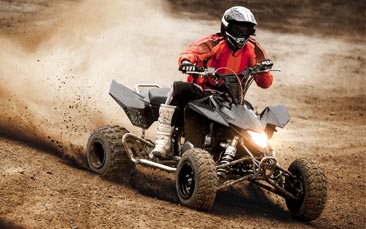 If you're looking for some fast and furious hen party madness then you get down and dirty with our Bath hen party quad bikes. These awesome machines are the perfect way to work off all that pent up frustration from daily traffic jams and snail-paced commutes. In fact, the only vehicles that will be in your way will be your fellow hens, although with some great manoeuvring and a twist of the throttle even they will soon be eating your dust!

You'll be greeted at the specially designed track by our friendly team of instructors who will give you a quick safety talk. It's then time to get kitted up with helmets, gloves and protective clothing (depending on the weather you can expect plenty of mud or dust). You can then get all the hens together for a quick group photo of everyone looking suitably race-ready. And we know you're going to make those racing suits look totally foxy!

Once you're looking good and ready to race you'll take to the track on 175cc quad bikes. These four-wheeled fiends are designed to tackle pretty much any terrain you point them at and are simply brilliant fun to drive. You'll have some time to practise and get used to the high powered machines before the real fun begins.

You'll line up ready to race on to see which of the hens is the true speed demon and records the fastest around the track... and which of the hens is more likely to worry the tyre wall than the leader board.

You don't need to be Lewis Hamilton, our Bath hen party quad bikes are so much fun to drive that even if you're not challenging for the lead you'll still have an absolute blast on what is most definitely not your average hen party activity.