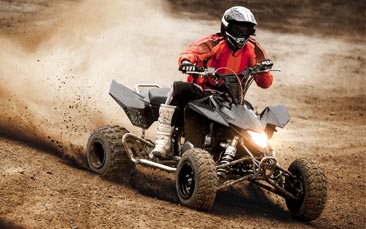 If you're have-a-go-hens who love adventure and a bit of speed, then you'll love our Cardiff hen party quad biking. While quads have long been a stag favourite, it's time for us hens to show them how it's really done!

Feel the wind in your hair and test your driving skills on this custom-built course in the beautiful Welsh countryside at our massive 360-acre site. Get prepared to get a bit muddy as you get more adventurous, pushing the revs and powering through the course. As you get more confident, you will hit speeds of up to 50mph on impressive 250cc Honda quad bikes.

Once on-site, you will meet the professional and friendly on-site team who will give you a run-through of the day and an important safety briefing. After a quick practice session to get you used to the machines, you will go on an intense countryside trek over fields, woodlands and bumpy tracks for an awe-inspiring 12-mile journey, pushing the quads to their limits (as well as your driving abilities!).

Cardiff hen quad bikes is a totally unique activity for you and the girls that certainly won't disappoint. It's also the perfect antidote to your weekly commute and months of traffic jam road rage.