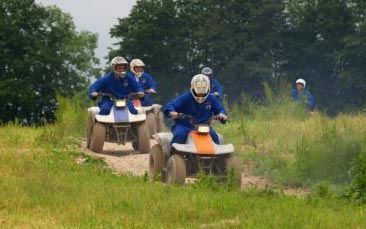 This really is a fast and furious hen party activity for girls who want more than cream teas and neatly cut sandwiches. This Bournemouth quad bike safari activity will absolutely blow you away! The top of the range quad biking centre is modelled with the same principles as a ski resort, with an impressive 14 courses designed to cater for all abilities. The whole day certainly isn't just a casual ride in the park - this is reserved for the epic thrill seekers out there.

Your adventure will include sharp banks turns, near vertical drops, and an adrenaline-fuelled jump course. Luckily for you, there are over 40 high performance machines (Yamaha 250cc Breezes) to go round, ensuring that you are able to have the ride of your life for the whole 90 minutes of your session.

However don't be put off if this is your first time quad biking, we have expert instructors on hand to get you started, show you how to control the bikes and give you tips and instruction on how to overcome even the toughest obstacles. You really will feel a sense of accomplishment once you tame the huge and varied tracks. The various tracks are designed to challenge expert and novice riders alike.

From beginning to end this is a total smash for all hen parties looking for something extra special and heart-pumping on their big weekend. This awesome, high-octane quad biking experience is up there with the best we offer in the UK. Perfect for blowing the cobwebs away from the night before, it'll guarantee a memorable few hours for you and the girls...