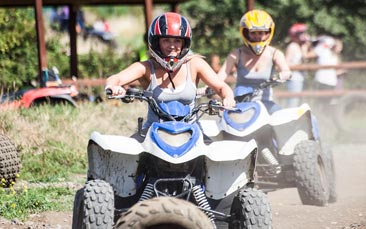 A far cry from 'traditional' hen activities, quad biking is certainly a hen do force to be reckoned with! It's a thrilling alternative to days of pampering and relaxing and is perfect for the ladies who demand a little adrenaline-fuelled fun on their weekend away; you can always save the spa session for afterwards and scrub all that mud off!

Start your pulses racing at our brilliant Bristol quad biking site, where you will have the chance to race around and tear up the 450-metre off-road track. The hens will experience our absolutely fantastic, brand new 200cc Polaris fully automatic quad bikes, which perfectly marry speed and all-terrain power.

The ideal activity for you active speed freaks out there, you and your fellow hens will first face the challenge of a specifically designed skills section, followed by a stretch out on the main trail. Avoid wearing your Sunday best as there's no chance you won't get caked in mud on this white knuckle ride that is the perfect antidote to all those midweek commuter traffic jams.

If you feel the need for speed or the bride-to-be is known for her fast and furious driving then this is the perfect way to get the hen party moving in the right direction and get the girls all fired up for a hen night in Bristol.