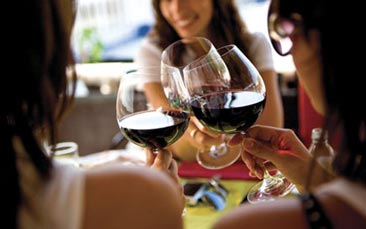 Let's be honest ladies, after a long, hard day at work who doesn't like to kick their shoes off in front of the telly with a fabulous chick flick and a delicious bottle of their favourite kind of wine from their local? Well girls, it's time to enhance your appreciation of your favourite beverage on our Bath hen party wine tasting. Of course, if there are girls in your group who, bewilderingly, haven't discovered the perfect mix of girl and grape then this is the perfect time to show them the error of their ways!

Our friendly wine expert is keen to share his wealth of exciting knowledge with you and the girls on your big weekend. Our exclusive wine tastings are both educational and interactive, and they'll certainly make you realise that you're getting your moneys worth when it comes to buying the more expensive bottles. Although, you'll probably be surprised to discover that there are actually a couple of vintages out there on supermarket shelves that are delicious and great value for money.

You'll travel the world through your taste buds as you try a luxurious variety of wines from across the globe, handpicked by your instructor. You'll learn the best ways to taste the deepest reds and the clearest whites. Never again will you worry about buying the wrong bottle to take with you to a dinner party, in fact with the top tips you'll receive here, you might just end up recommending a few bottles to friends and family back home yourselves.

Our fabulous Bath hen party wine tasting is a great laugh, and all the girls are sure to be a little giggly after polishing off more than a few glasses! The bride-to-be is going to love having her nearest and dearest together in one room, relaxing with a glass or two (or six!) of her favourite drink while learning some unexpected wine facts.
There are two packages to choose from. The wines you will be tasting in each category are as follows:

Standard Package (including 6 wines) -
1x Rosé
1x Crisp White
1x Fruity/Creamy White
1x Light Red
1x Medium Bodied/Spicy Red
1x Full, Seductive Red
Deluxe Package (including 7 wines) -
1x Award-winning English sparkling rosé
1x Creamy-smooth Prosecco
1x Toasty, full-bodied Champagne
1x Luxury White Burgundy
1x Complex, yet delicious, Red Burgundy
1x Fine vintage port
1x (blind) Dessert wine
Why not upgrade your package to include a matched food tasting sample alongside each wine for just £8pp? Please speak to your Destination Specialist for more details.