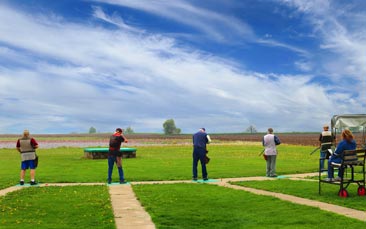 It can be seriously frustrating sorting out a wedding. Booking the venue, dealing with the wedding planner, trying to get your fella to finally sort out his invites, the list of worries goes on. So on your bride-to-be's big weekend, why not give her the chance to relieve some stress? You can go to the spa and have some relaxing treatments... or, take a high-tech laser weapon in hand to open fire at flying clays!

Our hen party laser clay shooting will see you heading down to some of the best clay pigeon ranges at home or away. So whether you're in Manchester or Maribor, you'll never be far from some seriously therapeutic shooting action.

This is clay pigeon shooting with a modern twist. On your hen party, you don't want to head into town with a whopping great bruise from a recoiling shotgun. So you'll be using guns that fire infra-red lasers to connect with your targets, earning you points, and, if you're really good, the sharpshooting crown!

You and the girls will need some serious shooting skills if you're going to end up at the top of the leaderboard though. These flying clays demand serious accuracy, but with our experienced instructors close by at all times, you'll soon be shooting like Lara Croft!

Our laser clay shooting is easy to learn, but definitely difficult to master. It's perfect for girls who love a bit of fun and friendly competitive action, and it's a great way to get out of the city for a few hours.