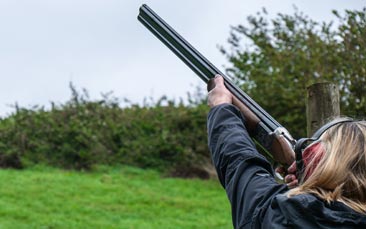 If you want a totally different type of hen party activity which won't involve having cucumbers on your eyes or sipping suspicious-looking green juice as its "highly nutritious and great for the epidermis" then you can get out and let the fresh air work its wonders on your complexion while you have an absolute blast!

Our Bath hen party clay pigeon shooting is quite simply fantastic! Run by experienced and highly qualified instructors, you'll be in totally safe hands as you pick up double-barrelled shotguns and learn how to turn those pesky clay pigeons into clay dust.

On arrival you'll have a quick safety briefing then the instructor/s will give each hen one-to-one coaching to show you exactly how to hold the gun, the best way to stand and distribute your weight as you pull the trigger plus how it's best to squeeze the trigger gently. And of course, for competitive hens you'll be aiming to see who turns out to be the hen party's Top Gun.

Did you know us Brits are actually very good at shooting? We've won a large number of Olympic medals and world championship trophies over the years. So who knows, perhaps one of your party has as yet undiscovered talents and could be appearing at the next Olympics? Of course that hen might turn out to be completely useless and not be able to hit a barn door with a banjo... But our super friendly instructors are on hand to make sure everyone gets the best out of the experience and get you all hitting the target... Wham bam thank you man!

Our stunning Bath hen party clay pigeon site also hosts other activities if you want a full day of hen party challenges;
Please ask our team for more details.