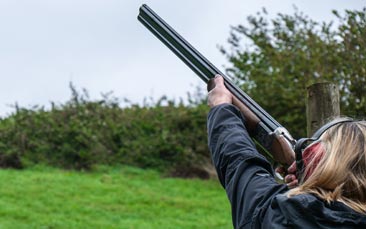 Sharpshooting hens can now try their hands at some explosive big band action with our Cardiff clay pigeon shooting. This is a hugely exhilarating activity and incredibly competitive... it's also rather addictive and amazing fun.
Ok, we're not going to lie, the first time you pull the trigger can be a little bit scary if you've never done it before, but after that first "bang!" and seeing the first target explode you'll be jumping up and down ready for more... We did!
At GoHen we're huge fans of clay pigeon shooting and know from our thousands of clients just what an exciting activity it is and how well it goes down with hen parties looking for something away from the
dance floors
and
iced buns
. It's not the norm and that's one of the many reasons this alternative hen party activity is such a hit.
The session will be lead by a qualified CPSA qualified instructor in safe and incredibly picturesque surroundings. Clay pigeon shooting might not have been the first thing you thought of when coming up with awesome activities for your hen weekend, but it really is something that the whole group will really get into, and although it'll be likely that clay shooting will be new to the majority of your group, the instructors are also there to make sure everyone is having fun as well as becoming increasingly accurate with your gun.
Once you've got the hang of it then you'll have a shoot it out in a fun competition to see exactly who is the best shot.