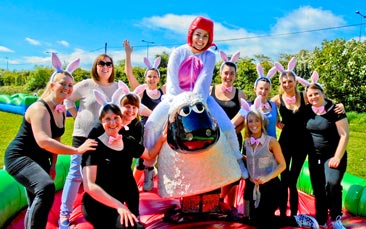 If you and the girls have a great sense of humour, a lot of energy and the need to try something totally unique and different on your big weekend then this is the activity for you! Our hen party welsh challenge celebrates all the best bits of Welsh culture, while exhausting the girls with some of the silliest, funniest competitions and trials imaginable.

Running around jabbing each other with leeks and hurling daffodils is only the beginning; by the end, you'll be breathless with laughter! Our welsh challenge takes place only 30 minutes outside Cardiff, so it can fit in perfectly with the rest of your weekend. Or if you're looking for the perfect ice breaker, why not try it on your way into the city? This is guaranteed to be a one of a kind activity that the girls will never forget!

Here are the challenges you'll take part in:
Rugby Run: Try for a try before the giant bungee drags you back down the pitch!
Leek Lampin': Hop up on the podium and get those leeks swinging - great for working out any bridal aggression.
Welsh Celebrity Knockout: Take aim at Tom Jones, Shirley Bassey, Charlotte Church, or another Welsh face or two!
Sheep Shenanigans: Turns out sheep don't like being taken for a ride! Climb on the bucking sheep, and hold on for dear life!
Dunk Dragons: Don your Dragon gear and race up the hills, down the valleys and through the mud!
Duffing Daffyd: Not just a pretty yellow flower, it's time to put those daffodils to real use.
Across the Taff: Try and transfer the livestock without taking a dip in the Taff!
Pull the Pit Pony: Tug of war against a very determined little horse!
Miner's Shower: A chance for the nearly-wed to sit down, relax and answer a few questions... and she'd better answer truthfully...
Venue Distances
From your chosen stag city to the Welsh Games venue.
Cardiff - 15 miles
Brecon - 50 miles
Swansea - 55 miles
Cheltenham - 56 miles