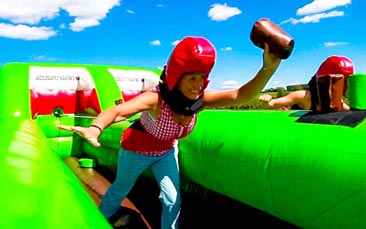 Let the games begin!
If you're looking for "laffs" then they really don't get bigger or madder than the legendary Somerset Challenge. Utterly bonkers but simply brilliant fun, you'll battle it out in a giant game show of a day with giant obstacles, hilarious costumes and wickedly funny referees/farmers.
It's going to get messy...
Please note: Outdoors in the summer, the event moves inside in the winter months.
The Games:
The Cider Run - Tied to a bungee rope you will run along the inflatable cider course to place a plastic cider glass as far along the runway as possible before the bungee rope pulls you backwards!

Pitchfork Duel - Battle against fellow hens with inflatable pitchforks with the aim to topple your opponent from their podium!
West Country Wipeout! - A pedal-powered sweeper arm that will knock the hens off their podiums in a last hen standing game.
Wurzel Knockout - Using a catapult, you'll be required to fire water bombs towards the "Wurzel dummies" at four different distances away. Ready, aim, fire!
Vicky Pollard Handbags - Two of the hen group will be pinned against each other with the aim to hit your opponent with a handbag while wearing big inflatable costumes!

Welly Wanging - Each of you will take it in turns to throw a wellington boot into a series of targets!

Drunk Pub Skittles- Time to try your luck at the alley! Take to the wooden alley and eye up the target of wooden skittles - sounds easy when you're not dizzy drunk, but try spinning around a pole first!

Mangold Dangling - Was the last game daft enough for you? Well, you haven't seen anything until you've played mangold dangling. Bar skittles with humans on cider kegs!

Farmer's Shower - This one is, of course, optional - The hen will be placed in the 'Tractor Seat of Truth' and will be asked a selection of questions thought up by the hen group on the day. The end result is up to you... does the dirty ditch water in the bucket above descend or is the hen safe?
The Somerset Challenge really is the most fun you can have with your wellies on!
Indoor venue between Nov-Feb