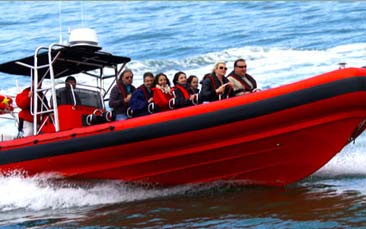 Indulge in a white knuckle ride across the waves, take in some stunning coastline views and see all the local wildlife - if the boat slows down for long enough that is!

If you're looking for all the adventure and excitement of white water rafting but you don't fancy putting in all the effort, then this is the activity for you. White water ribbing works under very similar lines, except the paddles are replaced by two massive 225hp V6 outboard engines to really up the ante!

Your white water RIB will positively tear up the water as you're driven at high speeds past some beautiful coastal landscapes. There are some seriously big thrills to be had here as your boat flies over the waves, and the girls are sure to be giggling if they're unlucky enough to get soaked by the ocean's spray.

This fantastic 1-2 hour voyage is a real group pleaser, giving you and the girls a chance to spend an afternoon together while speeding through striking areas of coastland, creating unforgettable memories as you go. The bride-to-be is sure to love this unique white water experience, and you'll certainly earn top bridesmaids points for giving her such an extraordinary day on the water!

White water ribbing is a fantastic way to keep all the girls entertained, it's truly wet and wild, and it's sure to result in the day of a lifetime!