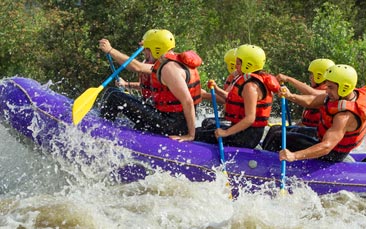 If you and the girls are looking for the most exhilarating of extreme sports to take on during your big weekend, then white water rafting is an action adventure not to be passed up. Push your adrenaline levels to the limit as you and the girls work together to tackle the rapids.

This is seriously white knuckle stuff, and it's definitely not for the faint of heart. You'll need to discover your inner Lara Croft if you're going to conquer the fast running courses on offer here, with rapids going up to grade 4 (that's seriously quite bottom clenching) featuring some tricky obstacles to boot.

But with experienced instructors on hand at all times, you won't be left up a certain creek without a paddle, as you'll be given top tips for success all the time as well as loads of encouragement. These courses might be an epic challenge, but the feeling of achievement you'll have once you've come out the other side will be even bigger, even if you are soaked through!

White water rafting is a heart-pumping group activity that's not just going to break the ice between hens; it's going to smash it into a million tiny pieces! It's also available in a huge range of destinations, so whether you're heading to Liverpool or Madrid, you'll never be far from the rapids. Give the bride-to-be the ultimate thrill ride on her big weekend with an unforgettable rafting session.