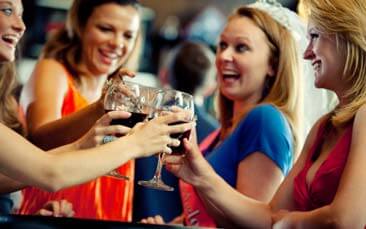 You go, girls! Taking on Europe for your big weekend was a great decision, there's loads of unique hen activities to get involved with out here, plus loads of sun with a bit of luck! There is one small problem though, not a lot of people seem to speak any English? But don't worry, we've got the solution - if you fancy going on a little bit of a pub crawl that is!

On our pub crawl hen nights, you'll have an English speaking tour guide who'll take you to all the best pubs and bars in town! You won't have to judge which bars are nice from the signs above the door as our guides are totally in the know. They'll take you straight to where's hot, so you can dodge where's not!

GoHen guides will take you on a journey through venues that all the girls are seriously going to love, whether they're historic, traditional, classy, quirky or all four. Our pub crawls are a fabulous way to get the absolute most from your destination and will certainly help everybody get their bearings in a brand new city.

All our bars have been inspected and approved, beverages sampled and cute barmen checked out, so you can rest assured we won't be sending you to just any old watering hole! Let your hair down and kick off a big night out with a bang!