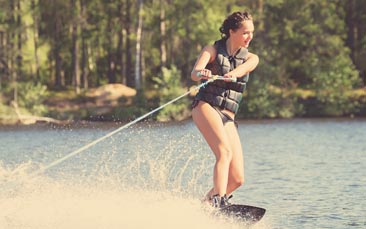 Wakeboarding combines the best of waterskiing and surfing to make a hybrid sport that's perfect for hens who aren't afraid of getting their hair wet! It's got all the high octane, speedboat powered excitement of waterskiing, but with a considerably smaller chance of things going awry and ending up with you doing impromptu (and painful) splits, since it keeps your legs firmly together, surfing style.

If gripping on to a rope for dear life and skidding across the wavy waters at speeds of up to 20mph is your idea of a great day out then our hen party wakeboarding is the perfect activity for you and the hens! Don't forget to take plenty of snaps of the gals as they try, fail and occasionally succeed while being towed behind. Of course, an onboard group selfie would be a great addition to the photo album on Facebook.

You'll be taught the basics by our expert wakeboarding instructor, and after a few simple test runs you'll be able to hop up on to the board and be pulled along at high speeds across the lake or sea at high velocity - looking (if you're doing it right) really, really cool. Who knows, perhaps you'll even be pulling off tricks and catching some impressive air.

It's available all over the country, as well as in a few European destinations, so pretty much wherever you go there's wet and wild wakeboarding fun to be had! Let's face it, if you're going to fall off and look silly in front of the girls, you might as well do it into the beautiful Mediterranean!