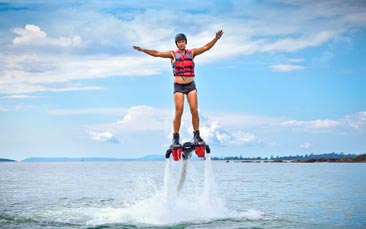 This hilarious hen activity will see the bride-to-be and her guests take to the sky in something that looks like it's come straight from James Bond's MI6 workshop. These high-tech jetpacks work by creating huge thrust through pumping vast amounts of water at high speed, this creates massive lift and then you'll be like a flying - slightly out of control - superhero. Ok, we're being cheeky as the jet packs are actually really easy to steer so you'll soon get to grips with them, whether you decide to try flips, rolls and tricks is entirely up to you (although ways remember, you're only ever one "Hey watch this!" away from becoming a YouTube fail).
This is definitely one for the bucket list and the kind of activity the nearly-wed will remember long after you've all sipped the last hen cocktail. Another great plus is the fact that this is such an unusual activity and certainly not the kind of thing many of the girls are likely to have ever tried before.
The session will begin with our friendly team picking you up from your accommodation and taking you to the site. You'll then get kitted up ready for action (wetsuits are supplied) before each hen has 10 minutes going up, up and "wahey!". As each hen takes to the skies the rest of the girls can watch on and get their phones out to film all the action and add it to Instagram to show the folks back home. You could edit all the videos of the hens together for a nice memento for everyone. At the end of the session return transport will be waiting to take you back to your accommodation.