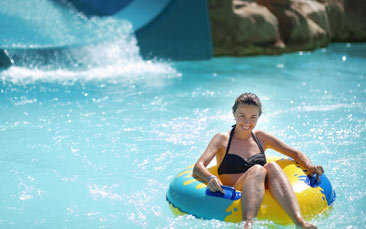 Get ready to dive into Northern Europe's largest waterpark. This is two hours of pure regressive therapy as you and the girls go back to your childhoods in hilarious hen fashion. After all, being a grown-up can be a little tiring at times, (especially for the bride-to-be after weeks of wedding planning) so here's a chance to shrug off the overcoats of adulthood and get back to being great big kids!
Swimming Whirlpool - Yes, it's an entire swimming pool that is a whirlpool! (When we win the lottery we're buying on of these!)
Kamikadze - This is the park's biggest scariest ride! Not one to take on with your eyes shut, we're just not sure we're ready to open them!
Waterloop - A fully open tube ride. A 45m drop, with no inflatable to ride on. "Wheeeee!"
Black Slide - Take the plunge in complete darkness but you don't need to be alone as this ride takes two at a time so you'll have someone else to hang on to.
Orange Slide - Stag back kids, this is a job for... 135-metre slide where riders can reach speeds of up to 45kmph.
Unique Tornado - This is the only 'tornado' style ride in Europe, the third-largest in the world and the worst hen party hangover cure ever!
Yellow Slide - The longest of the waterparks slides the stretches an impressive 211 metres and three hens can ride at once.
Blue Slide - Yep, we're noticing a theme in the names too, this one is 108 metres and ends in a rather large splash landing.
Red Slide - This 83-metre slide hits speeds of up to 70kmph. Yikes!
Green Slide - 108 metres, three hens, a suitably daft ride for suitably daft hens!
So come on in, the water's lovely!