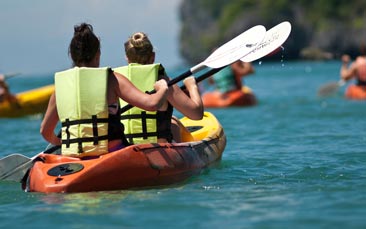 Looking for a totally new adventure but don't fancy anything too mad? Then kayaking is perfect. You'll be close enough to civilisation that you can soon be back for a cuppa yet just far enough away to enjoy incredible wildlife.
The session starts with you and the girls being picked up from your accommodation by our English speaking guide. You'll be taken to the river where the instructors will be waiting for you. You'll each be given a wetsuit, life jacket and helmet (perfect for hilarious hen selfies) then it's down to business.
You'll be shown the basics before setting out to cross Latvia's widest river, far away from the crowds of tourists, which is teaming with life including beavers.
The double-seated kayaks mean you can work in pairs which is even more fun and also great exercise, especially if you had one too many cheeky cocktails the night before. The instructors will be with you throughout the experience so you'll always be safe but by the end of the session, you'll be flying along like pros! Return transport will take you back to your accommodation at the end of your session giving you plenty of time to get ready for a big night out.
So it's cameras at the ready for what will be a trip you'll never forget.