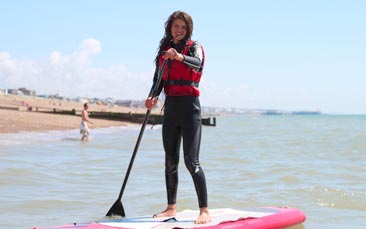 Combine surfing with kayaking and - ta-da - you've got stand up paddleboard (SUP). SUP is one of the fastest growing water sports, and now it's your chance to see what all the fuss is about. We have no doubt you'll take to it like hens to water (erm?).
Our paddleboarding hen party in Riga is not just a great workout, it's the chance for all the hens to relax and enjoy scenic views on a Latvian lake. Prepare for blue skies and crystal clear waters and lots of laughs. You'll be picked up from your accommodation and taken to the beautiful site. Here the friendly instructors will help the whole group feel at ease.

You'll get kitted up in wetsuits (pausing to take a group selfie, obvs), then the guides will show you the basics on land before you hit the water. It's then time to get wet and have lots of laughs. Yes you'll fall in a couple of times, yes some of the hens will laugh at you, just before they fall in and you get to laugh at them. But most of all you'll try something totally new and is such a massive buzz when you start to get the hang of it. You'll never want to walk to work again!
Hen parties are a great way for the whole group to try something completely different and new. Even if a few party members are a little nervous, your experienced instructors will be on hand throughout to work with the group at your own pace to ensure all the hens get the most from the session.
Once you get up on the board and start paddling yourselves along... It's a hugely exhilarating feeling and its easy to see why regular SUP boarders and surfers are so addicted to what is a brilliant sport.