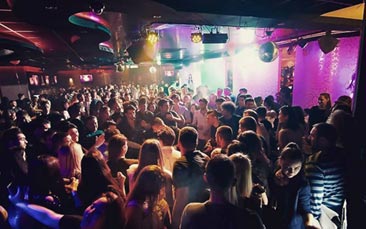 Give the bride-to-be the VIP treatment with guest list entry to Fashion, Prague's most exclusive nightclub packed with stunning live entertainment, performers and the city's top DJs.
Our English-speaking guide will take you straight to the club, past the queues and to a VIP table with your name on it. Yep, your own VIP table to return to when you're all danced out like the hen party A-listers you are. Plus a few extras.
Welcome drinks
Bottle of spirits (rum, whiskey, vodka)
Mixers
Ice
Snacks
On the bride's last night out as a single lady you want her to feel like a party princess which is what makes Fashion such a brilliant choice. One of Prague's most popular clubs, it's the perfect blend of dancing, relaxing and laughing as you can choose to sit pretty on your table sipping drinks, take in the amazing performances or throw shapes to the sounds of the best local DJs.
The club is renowned for its original cocktails, uber-cool barmen and the stunning views from its rooftop terrace overlooking the Czech party capital. The perfect backdrop for a group selfie while you're all looking your best.