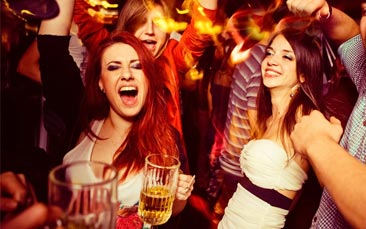 We're not sure if it's the law to include a Prague hen party bar crawl but it would certainly be a crying shame to miss out. This fantastic evening activity takes in some of the city's best bars and clubs and a few optional extras to really help get the party started.
It's one of the toughest things about being 'strangers in a strange town', just where do you go? Well, the simple solution is to let GoHen lead the way. The evening will start with our friendly female guide meeting you at your hotel and then leading the way. You can opt for either a 3-4 or 5 hour Prague hen party bar crawl. Being a local lass, our guide really does know which bars or clubs are hot and which are not. She can also introduce you to the local flavours and drinking customs if you decide to 'go native'.
We have a whole selection of perks and added extras* so you can create the perfect evening for your party. You'll also get guestlist entry to one of Prague's hottest clubs to end the night in style. You can build the evening as you wish;
3-4 or 5-hour crawls are available
You'll get your own local female guide to show you the sights
And teach you a few local drinking traditions
She'll meet you at your accommodation then lead the way
You can opt to include free shots*
Or unlimited beer* (well this is the Czech Republic to it would be rude not to thoroughly sample one of their finest export)
Nightclub entry get VIP treatment as you're waved past the crowds and straight into one of Prague's hottest nightclubs
* Unlimited beer and/or free shots are available as an added extra at a small additional fee.