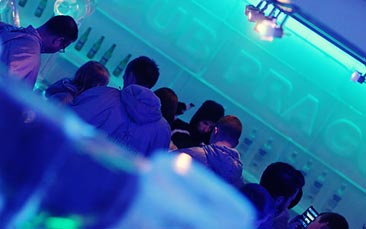 Yo, stop, collaborate and listen... Boom boom boom didi boomboom.
Cooler than Vanilla Ice himself (and minus the blond quiff), this amazing night out is the perfect thing for fun-loving, drinking ninjas. In fact, you can't really consider yourself a true drinking ninja unless have drunk in an ice bar at least once in your life.
If you've never heard of an ice bar before then imagine sipping an ice-cold cocktail, from a glass made of ice, while sitting on a stool made of ice and looking at ice sculptures in an entire bar, made of ice! It's a real brain-freezer. When you arrive you'll be given a funky thermal jacket and gloves to wear in the bar which is kept at a pretty fresh -7 degrees celsius. In fact, it's so cold that visits are limited to 30 minutes per person because after that and you could start to suffer from exposure or other frost related conditions. Yeh! This is properly exciting stuff and a complete change from sitting in a spa of having a cup of tea back home.
But that's not all. After the bar, you'll head to one of Prague's hottest clubs where your names will be on the guest list so you can get frozen on the dance floor. Oh just let it go will you ya! (now that's two bad songs you've got stuck in your head).