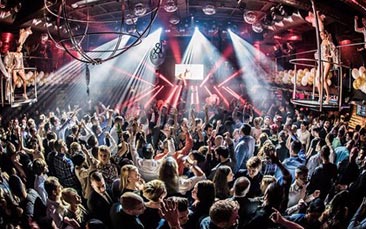 This isn't just any night, it's the bride-to-be's big weekend so deserves some star treatment and that's exactly what she'll get with GoHen.
We'll arrange VIP entry to one of Prague's most exclusive and hottest clubs. Duplex is THE place to party. The venue's location is spectacular with amazing views over the city night-scape from the terrace bar overlooking Wenceslas Square. And getting in will be no issue. You won't have to worry about the queues.
An English-speaking guide will meet you and escort you to Duplex to ensure your VIP entry. Once inside the rock-star treatment continues as you'll have a VIP table with a bottle of spirits for every five hens (vodka/rum/whiskey). You'll also have ice, mixers and snacks. This will give you the perfect starting/meeting point to centre on as you laugh, live and dance the night away.
VIP table:
Bottle of spirits (rum, whiskey/vodka)
Mixers
Ice
Snacks
The club has two bars and an amazing sound system with guest DJs. There are also funky live performances and dancers that help make this a real experience in the heart of this amazing city. It's the perfect end to any big night out and takes all the hassle out of the evening while giving the bride some special treatment.