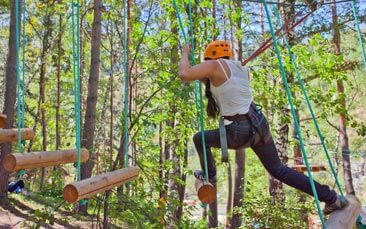 On your big weekend in the beautiful heart of the South West, there's plenty of fun to be had downtown. But getting out of the city is also a fabulous idea, as there's some seriously amazing hen party action to be had in the countryside, and our high ropes course could be chief among them. This fantastic activity will see you and the girls climbing up to 14 metres above ground to take on a course that takes the concept of a climbing frame and (literally) takes it to new heights!

On our Bath hen party high ropes course, you'll take on a variety of exciting challenges that are sure to thrill any bride-to-be who fancies herself as a would-be Lara Croft. There are some big laughs to be had here as the ladies try their hand at some unusual outdoor activities that could prove to be the kind of fun that you'll all remember long after the wedding day itself.

You'll discover how much climbing skill you've managed to keep hold of through the years (it's probably been a long time since you last took on a climbing frame) as you get involved in a selection of five unique activities that include:
Balance Beams - Test your balance on the low beam before you attempt to conquer the rest of the beams that'll become increasingly hair-raising the higher you climb!
Jacobs Ladder - You've probably climbed ladders before, but they certainly won't have been as big as this, can you get to the top?
High All Aboard - Put your teamwork to the test as four hens at a time ascend a pole before attempting to lean back with only their harnesses - and each other - to support them.
Our Bath hen party high ropes course is a fantastic addition to any big weekend in the South West. It's truly memorable stuff that's sure to get all the girls giggling as they rediscover their love for all things high and climbable!

Looking for a full-on day of outward bounds fun? Why not split into two teams and go head to head in hen party competition? Or better yet, add a delicious BBQ lunch as well as an afternoon of driving and/or shooting events. Enquire for more details!