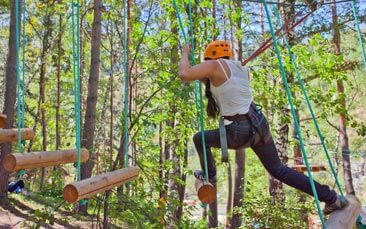 If you're looking to scale new heights and try a totally unique activity for the bride-to-be's big weekend then this really is a fantastic adventure that will see all the hens pulling together and overcoming some great challenges.
This will get the hens out of bed, out into the fresh air and get the pulses and adrenaline racing. There are 5 separate courses to tackle, you can take them at your own pace and choose whichever obstacles you want to take on. Not all the hens have to follow the same source but it's far more fun to all work together and can help create an amazing team bond.
Each course has different obstacles including:
Vertical nets
Cobweb
Monkey's bridge
90m Tyrolean span
Ziplines
Rope swings
Rope bridges
Cargo nets
And more
You'll all be kitted up with harnesses and helmets and given a safety briefing where you'll be shown how to 'hook on' safely. As you're heading over the course you can take photos and videos of each other in action as you hit new highs and wave down at the lows far below.
So have you got what it takes? Are you looking for bigger adventures? New challenges?
"Step aside Tarzan (and sort your hair out), here come the girls!"