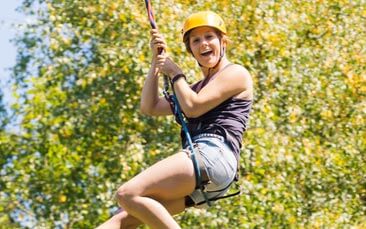 What could be more exhilarating than whizzing across a lake or field at breakneck speeds with only a thin piece of wire to hold you up!? Taking a zip wire in one of our many rural or countryside sites is an awesome way to see the scenery - just make sure not to blink or you'll miss it!

Our fantastic zip wire activity can see you and the girls reaching speeds of up to 40mph as you hold on to your harness for dear life. You'll be given a good shove by a trained expert instructor to set you zooming down a cable that's a mere 12mm thick! Not for the faint of heart, but it's certainly one of the most unusual hen activities you'll ever try and nothing beats the rush of pure adrenaline that zip-wiring promises.

The bride to be won't be worrying about table decor, petits fours and off colour speeches from the loved ones when she's speeding down from great heights at high speeds; perfect for distracting the nearly wed for just a day!

Many of our zip-wiring venues offer striking views to admire on your way down - if you can keep your eyes open as the world zooms past! This is a fantastic, unusual hen party activity which is perfect for challenging the girls and initiating a bit of friendly hen competition - just bear in mind that some of these zip wires start from a whopping 50 meters high!