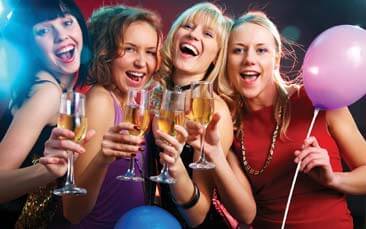 Benidorm baby! Let's not beat around the bush here, Benidorm is quite simply one of the greatest places to party on the planet! (having helped over 300,000 clients, we have a pretty good idea when it comes to the best party paradise).
Benidorm has over 2,000 bars and clubs, yes, TWO THOUSAND, which just goes to show how much this beautiful coastal resort is prepared to party. But with so many venues to choose from how can you decide where to go? Is there any way of knowing which are the newest and trendiest bars? Which bars have the best deals and hottest DJ's? For most folks sadly there is no way of knowing, they will follow the noise and hope they happen to find somewhere with a decent atmosphere... "Oh well... it'll be fine won't it?"
NO! You're hens on a mission, this is the bride-to-be's special weekend and "fine" simply won't do! You don't want to leave your night out to accident or hope Lady Luck hands you a flier with free entry into a great club. At GoHen we visit all our destinations so we know what's hot and what's not, but we can't be there all the time so we've lined up a local host who will personally show you the best bars and help you skirt the queues.
On entry at each bar you'll get a free shot (you'll be visiting five bars in total) before ending the night in one of the best bar/clubs in town where you can keep partying through to 7am!
So, dancing shoes at the ready, faces fixed and giggles ready to roll. With GoHen you can be sure of finding exactly where the party is at for a night out the nearly-wed will never forget.