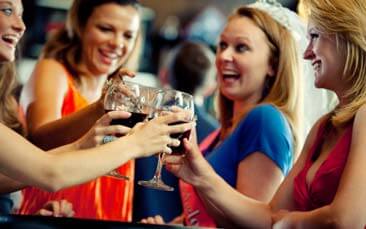 This isn't just any bar crawl... This is Benidorm's legendary smashed bar crawl. 8 reps, 100+ revellers, games and gags, plus 5-6 hours of non-stop partying! Ladies... Put on your party pants and get ready for one hen-tastic night of non-stop dancing and laughing.
This really is the daddy of all bar crawls with reps on hand to get the party started. They'll be organising some hilarious challenges and games that you can either take part in or just watch. They will also lead the whole group to some of Benidorm's legendary bars (and there are over 2,000 bars in Benidorm so this is certainly a town that knows how to party!).
You and the girls will get a free shot in each bar. It's then entirely up to you, you can drink and party at your own pace and get as involved with the games as you like. It's your night to enjoy, the reps are there to help ramp up the fun and keep you all together.
So ladies, prepare to party on what is bound to be a massive night out and perfect for a hen party which can go on until the wee small hours (or right through until breakfast!).