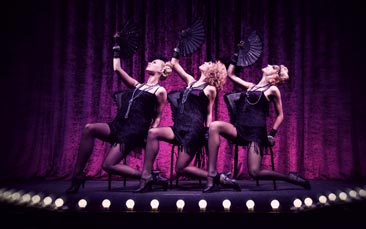 As Liza Minelli sang "Life is a cabaret old friend" and if you're having a night out with old (or new) friends, this stunning cabaret show has a real touch of 'Vegas' about it. Glitzy showgirls, hunky male dancers, comedians, acrobats, magicians, singers and more.
While here in the UK variety entertainment disappeared for a number of years, on the continent it never went away and speciality acts have been wowing audiences for years. Forget Britain's Got Talent you really haven't seen anything until you watch a live show and this breath-taking performance in played out on a whole new scale!
With over 80 fantastic dancers on stage and a great laser show, this visually stunning 'spectaculo' really is the perfect way to kick-off a big night out. On entry you'll be shown to your reserved seating and the first drink of your choice will be on the house. And the entertainment isn't over once the curtain falls, the party continues into late into the night. But if you really want to get your own dance moves we can create a big night out for you. This is your big night to design as you want and GoHen are happy to help, in fact, it's what we do best (it's certainly better than our own dancing!).