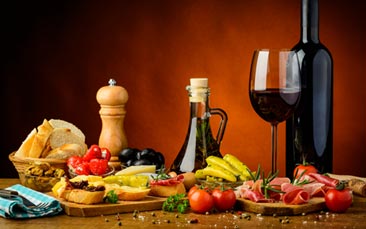 Little dishes, small portions and huge flavours, all shared with friends, tapas is the perfect way to celebrate the nearly-wed's big weekend. It's such a social way to dine and the wide variety of dishes really means there is something for everyone (even the fussiest of eaters). What's more, it's mouth-wateringly good.
And this isn't just any tapas, this fantastic restaurant has been hand-picked for the fantastic quality of its menu and high-class service. Here at GoHen we love tapas (we try to convince ourselves that smaller plates carry fewer calories) and the Mediterranean diet is widely considered to be very healthy. And when you look at what tapas is then it really does seem like the obvious hen choice;
It's a table, packed with lots of delicate small dishes, all packed with big flavours, often grilled or cooked in olive oil making it far healthier than a giant burger. Marbella hen party tapas is sharing and laughing. It's having a glass of locally produced wine. It's the ideal way to raise a glass and eat some fantastic food and with sharing in this style everyone will find dishes they like with dishes from the sea, from the field and from the garden.
Tapas is what the Spanish love to do on a night out and this is a truly authentic Spanish experience. It's also completely hassle-free:
Your table will be booked for you
You'll receive half a bottle of Spanish wine or three beers per person
The bill will be pre-paid so none of the grief of splitting the bill
All you'll need is a little extra cash for any extra drinks you order
Enjoy!