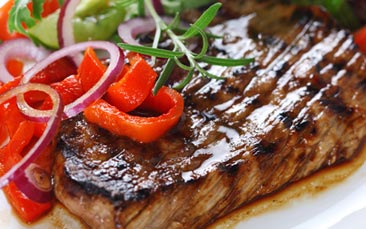 If the bride-to-be loves food (and who doesn't?!?), is a bit of a chef, or just a huge fan of steaks then this is the perfect start to a big night out.
Argentinian steak is renowned the world over as being the best in the world. Succulent, melt in the mouth, this is how all great dining experiences should be and this trendy restaurant has earned renown from a variety of sources for the incredibly high standard it produces.
The contemporary menu looks every bit as good as it tastes, but the star of the show is without doubt the meat. Alongside the three-course meal you'll be served a half bottle of wine or two beers each. And Strictly Come Dancing fans will be pleased to know that on certain nights of the week Argentinian dancers perform an extravagant authentic tango between the tables.
There's a huge selection of beef steaks, as well as superb chicken, pork, lamb cuts.
T-bone
Ribs
Pork Chops
Boneless Stuffed Chicken
Fillet
Entrecot
Lamb Chops
Rib-eye (300g!)
And more...
There is also a fine range of fish dishes and fantastic desserts (you'll dance the extra calories off later!).
This is a wonderful way to really dine in true style and give the nearly-wed a fantastic send off. You can also add nightclubbing or other entertainment to your package, please ask our team for more details to make this a night like no other.