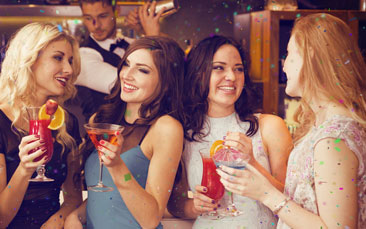 To go to Marbella on a hen party and not join in a bar crawl? Well, frankly we're not sure if that's even legal. Ok, so it probably isn't actually a law but it's certainly bad form to not join one of the greatest bar crawls in the world!
Puerto Banus is famous for the proximity of all the bars, we're not going to lie, they are all very close so you can walk from one to another quite happily. But what you won't get is the huge bar crawl that will be made up of other party people all set for a night that is totally off the charts!
A local bar guide will lead the way to the best bars in town, as part of the crawl you get access to great deals and offers. There will also be some madness and laughs along the way thanks to the guide.
This really is one of those "It's going to get messy..." kind of nights but all in the best possible way. A night when you can really see the bride-to-be off in style, laugh at the madness of her getting married, cry at the wonderful memories you've shared with her, raise a glass to the many more memories to come.
And drink. This is Marbella, there will probably be a few glasses sunk (always remember to drink responsibly, never have more glasses than you have hands, that's just greedy!).